Library
The PHSG Library is located on the first floor in the The Annexe.
Contact Information
Library staff: Miss A Harris & Mrs D Heard
Contact details: Email library@phsg.org Telephone: 01752 208308 ext 222
Opening times
Monday – Thursday: 08.30 – 16.45
Friday: 08.30 – 16.15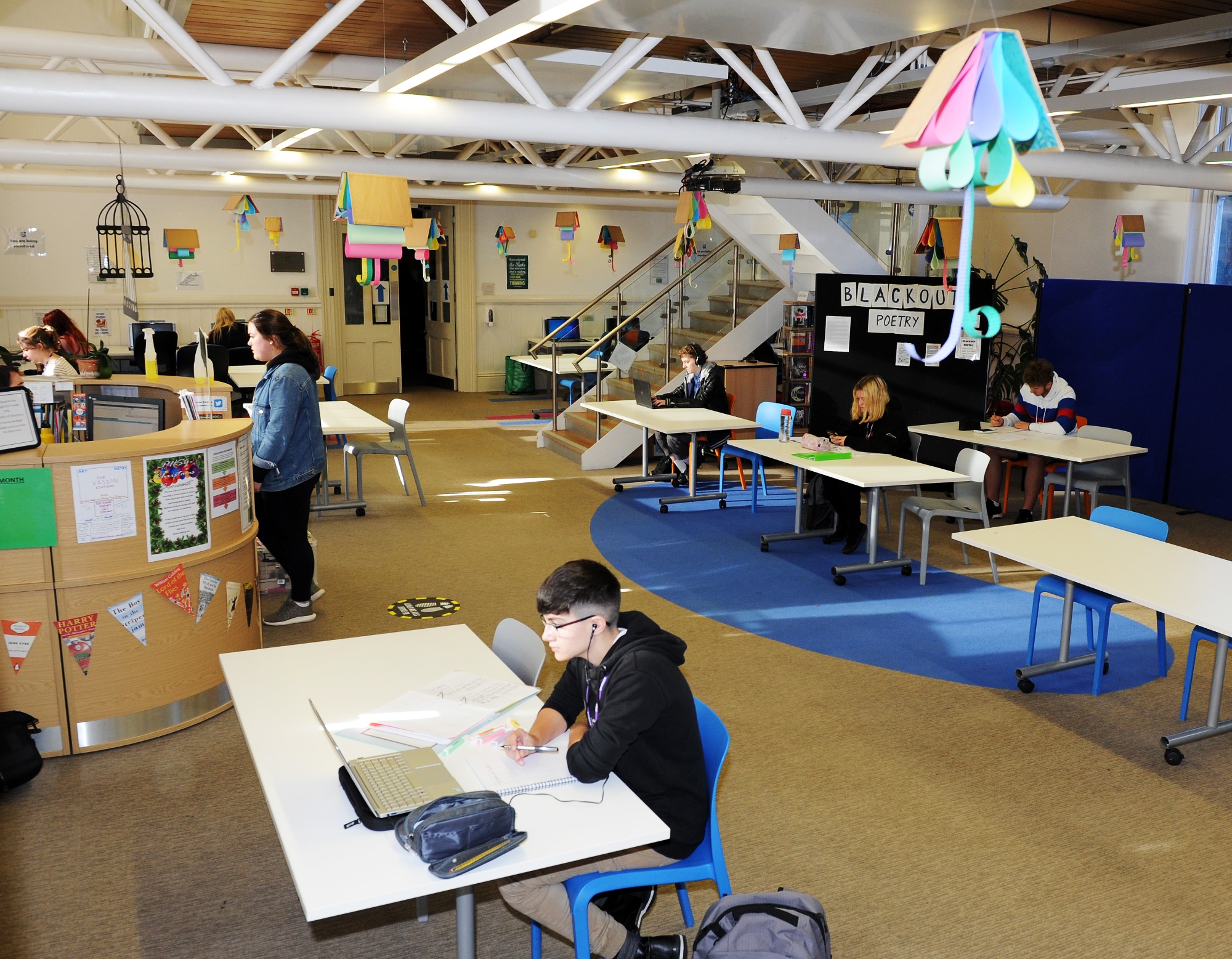 Please note that at present the library is closed after school until further notice
Who can use the library?
To ensure that all year groups have a fair chance to use the library we have assigned the following days:
Year 7 – Monday break and lunch
Year 8 – Tuesday break and lunch
Year 9 – Wednesday break and lunch
Year 10 – Thursday break and lunch
Year 11 – Friday break and lunch
Year 12 and 13 can use the library every day during lesson time. Both year groups must remain socially distanced from each other and wear masks when the library is crowded.
Book delivery service
Students don't need to wait for their allocated library day to borrow a book. They can logon to Oliver our Library Management System to view our library catalogue and request to have a book delivered to them in tutor time.
Library stationery shop
We run a stationery shop in the library and sell useful bits for your school work. Items include pencils, erasers, biros, memory sticks (16GB), folders and much more at very reasonable prices. A full list of stationery items and prices can be found below. The shop is open every day but year groups must stick to their allocated library day.
Library Stationary Shop Price List
Memory Sticks (16GB) £4.35
Blu Tack £0.60 per pack
Glue Sticks £0.40 each
Biros – red and black £0.10 each
Highlighter pens £0.50 each
Dry Wipe Board Markers – black, green, blue, red £0.40 each
Pencils £0.05 each
Erasers £0.15 each
Double Sharpeners £0.40 each
Coloured Paper/ Card £0.01/ £0.02 per sheet
A5 Zippa Bags £0.30 each
A4 Ring Binders £0.50 each
A4 Project Files (card) yellow, red, green, blue £0.15 each
A4 Display Book £1.10 each
A3 Tech folder £5.75 each
A4 Plastic Polyfile - green, blue, pink, turquoise, purple £0.50 each
A4 Plastic Wallets £0.02 each
A3 Plastic Polyfile - green, blue, pink, turquoise, purple £0.95 each
Metal Compass £0.20 each
Clear Rulers (30cm) £0.12 each
Protractors (180 degrees) £0.06 each
Calculators (Scientific) £7.00 each
House Lanyards Temple, Anthony, Latimer, Kendall £0.70 each
Sticky note pads £0.25 each
Scissors £0.30 each
Colouring pencils (pack of 12 assorted colours) £1.40 per pack
Revision note cards (Feint lined pk 100) small £0.80 /pack large £1.00/pack
Subject dividers £0.50 per pack
Revision/ exam pack £1.80 each