NEWSLETTER
End of Autumn Term 2020
HEADTEACHERS WELCOME
Welcome to this edition of the Plymouth High newsletter. Our students have been so busy this term, getting involved in such a wide variety of activities and all this in spite of the COVID19 related restrictions. Through these pages you will get a sense of the talent, drive and ambition that marks out a Plymouth High student.
On our website, we share with you our latest news and events so that you can keep track of what the students are up to in real time. By clicking here you can stay updated on school life throughout the year.
Our article writers have also been hard at it with a bumper issue of the student's own 'Hear Me Out' magazine. Recent editions of the 'Hear Me Out' magazine are available to read here on our website. Well done to everyone involved in its publication.
Although the Government has relaxed the conditions around social distancing for Christmas, we must still be vigilant about following safe practices. I share with you here the rules for Tier 2 which govern our movements outside of the Christmas period 23rd to 27th of December.
If your child develops COVID19 symptoms during the holidays, they will need to be tested. Please contact the NHS track and trace during this time. If your child is unable to return to school on the 4th of January, please contact the school in the usual way on the 4th of January. On our website here you can find school information regarding COVID19.
Thank you for your continued support and understanding. The Plymouth High team have worked tirelessly to provide the best possible environment for our students and we very much appreciate your support and kindness.
On behalf of everyone at Plymouth High, I wish you all a relaxing and enjoyable Christmas break.
Very best wishes,
Simon Underdown.
Headteacher.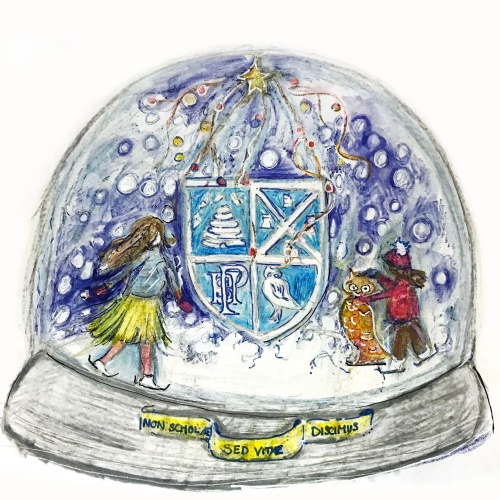 07 Dec 2020
The winners have been selected for the PHSG Christmas card competition.
17 Dec 2020

Today would usually have been the day that we would have conducted one of our end of term festivals. The festivals play a big part in school life and the House captains and House teams help organise the festivals and compete for House points. We also would have normally been awarding the House...
07 Dec 2020

The charity ambassadors, PTFA and Head Student Team are excited to announce that, this half term, we will be hosting a raffle event to help tackle period poverty.
02 Dec 2020

Last month we launched our support for the Plymouth Homeless Shoebox appeal and we are delighted to announce that this year we have had 81 shoeboxes donated!
19 Nov 2020

Over the Christmas period, it is sometimes easy to forget about those less fortunate and at this time of year, Plymouth High would usually be welcoming donations from students and their families to the Plymouth Foodbank. This year however, the Head Student Team at PHSG are asking that donations...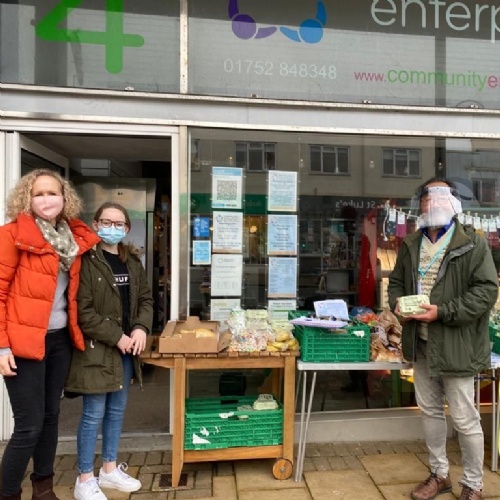 02 Dec 2020
We are extremely proud of our students who are continuing with their Duke of Edinburgh Awards throughout the difficult restrictions. The requirement for community support has never been in greater need and our students have been volunteering their time to help in such projects and adhering to all of...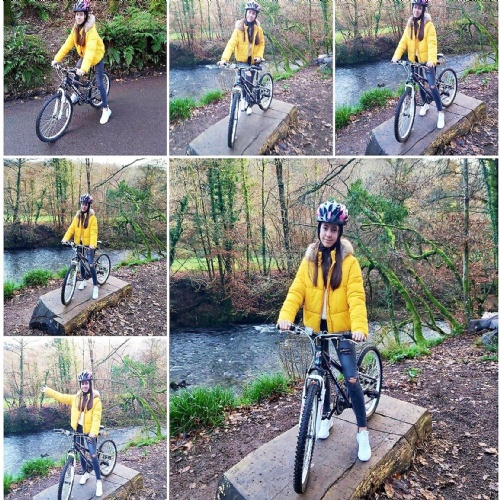 10 Dec 2020
To achieve the Duke of Edinburgh award the students must provide evidence to show them partaking in the 4 sections. The students are currently concentrating on Sections 1-3 and coming up with innovative ways to achieve them.
17 Dec 2020

It has been announced that PHSG DofE participants have contributed an incredible 975 volunteering hours to help others, which equates to a social value of £4241.25!
19 Nov 2020

The Heads of Years (HOYs) are looking to commission 5 paintings/creations on canvas for the Head of Year Meeting Room. They have launched a competition amongst the PHSG students and the winning designs will have their pieces showcased within this prominent space for all to admire.
Art Captains announced for 2021/2022
We are delighted to announce that Jaimi M and Ria J will be the Art Captains for 21/22. Congratulations!
18 Nov 2020

Year 10 have been experimenting with different cleaners that we are using in school.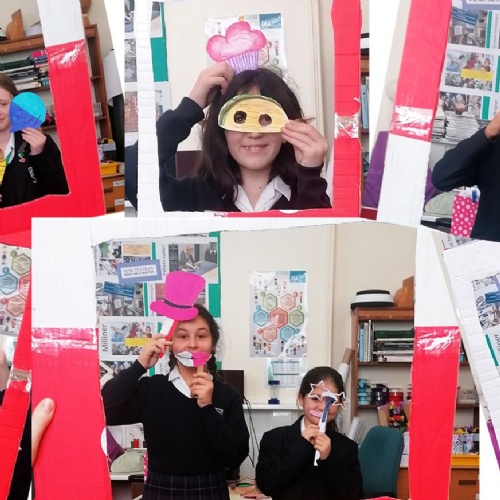 25 Nov 2020
Year 7 Design and Technology have been getting creative! This week they have been designing and making photo booth props as part of the entertainment section to their Birthday Party event, which they have been organising as part of their Autumn Term project. There are some great unique designs...
| | |
| --- | --- |
| | 17 Dec 2020 |
| | |
| --- | --- |
| | 17 Dec 2020 |
| | |
| --- | --- |
| | 16 Dec 2020 |
| | |
| --- | --- |
| | 09 Dec 2020 |
| | |
| --- | --- |
| | 03 Dec 2020 |
| | |
| --- | --- |
| | 02 Dec 2020 |
10 Nov 2020

Year 7 have been working on map skills in their Geography classes and have produced wonderful scale models of Sheepstor using their contour skills.
24 Nov 2020

A level History Class participated in an inspiring lesson in studying the various Russian citizens and how they fared under the Tsarist regime.
PHSG Online Virtual Sports Day- July 2020
During the first national lock down, unfortunately we couldn't run our sports day at Brickfields in the usual way. However, students and staff were set challenges online and could enter 3 events to contribute towards their house. Points were awarded for contributions as well as the places awarded in each event. Special mentions go to Verity Tank in 9A who won all three events entered. Verity, 9A and Mia, 9L were placed in the top 3 for all of their events. Bonnie, 10L, Sophia, 10K and Martha, 10K were all placed 1st in two of their three events. Abigail, 11T won all three distance events with Klara,11T in second place. Hannah, 11L also won two events. The 5km event was hotly contested amongst staff with Ms McCauliffe beating Mr Underdown to first place and Mrs Goolden coming in third.
The final results were:
1st: Latimer: 365 points
2nd: Kendall: 260 points
3rd: Temple: 133 points
4th: Anthony: 131 points
Well done to everyone who entered from home
12 Nov 2020

The PHSG PE department strive to ensure the students have the use of the most up to date local facilities to enhance their learning of the curriculum.
Student & Class of the Week
14 Dec 2020

Student of the Week: Jess, 12BLU. For staying behind to look after a member of the public injured in a road traffic accident and have a calm head in a challenging situation. Nominated by Mr Goodchild. Awarded 10 House points.Polly, 10A. Who has filmed and edited PHSG...
09 Dec 2020

Student of the Week: Hanna & Isobel, 9RIC & Erin, 9FLT. In the absence of her usual PE teacher they helped with dance lessons by learning some dance pieces and demonstrating to the rest of the class. Nominated by Mr Payne. Awarded 10 House points!Class of the Week: Miss Yarwood'...
30 Nov 2020

Student of the Week: Esther, 8A. For working tirelessly and with dedication and enthusiasm in her food and nutrition class. Nominated by Mrs Banks. Awarded 10 House points!Class of the Week: Mrs Findlay's year 11 English class . In the absence of their cover teacher, set...
24 Nov 2020

Student of the Week: Tabitha, 8THA. For excellent work ethic and supporting others. Nominated by Miss Taylor. Awarded 10 House points!Class of the Week: Mrs Gouldens 7X PE class. During netball, they were insistent on carrying on with the lesson outside despite the rain...
16 Nov 2020

Student of the Week: Zara, 10CLW. For overcoming some pretty massive fears in the climbing class during PE, learning how to boulder and then surprised us all with her determination to climb one of the bigger walls, getting to the top despite being absolutely terrified...
Our very own Mrs Jagger-Rowden is becoming the Director of Razzamataz Theatre Schools in Plymouth from January onwards. She is extremely excited and would like to offer our wonderful Students an exclusive special offer of a free taster session on Saturday January 9th.
We offer amazing high quality Singing, Dance and Drama training in a fun, relaxed and friendly environment with a host of experienced and talented teachers.
Our aim is to nurture your child's confidence, team working and communication skills, develop their creativity, as well as giving them access to a plethora of amazing opportunities such as; performing in a West End Theatre, special workshops with industry professionals, Summer Schools and taking part in Whole School Productions every year.
Due to Covid19 related measures, we only have a limited amount of spaces in each class, so hurry to book your space now!
For more information please contact her on Plymouth@razzamataz.co.uk
STEM Returners programme for returning STEM professionals with Babcock in Plymouth.
Have you taken a career break from an engineering, scientific or technical sector and wish to return? Are you working below your experience in a different sector? Do you have an engineering, science or technical degree that you aren't using? Do you just wish to transfer sectors but don't have any experience? If so this could be the opportunity for you! After running 2 previous returner programmes where 100% of returners were offered permanent roles with Babcock in Devonport dockyard, we are currently sourcing candidates for their brand new programme starting in April 2021, a 13 week, fully paid and supported return to work programme. All candidates will also have the opportunity to obtain a permanent role at the end of the programme. No career break is too long, register to return to STEM today! For more information please visit www.stemreturners.com or email hello@stemreturners.com.

More information on the programme is also available here: https://www.stemreturners.com/2020/12/09/babcock-create-new-engineering-opportunities-in-plymouth-with-award-winning-recruitment-scheme/
HOME SCHOOL COMMUNICATION
Students may contact staff if they have queries, firstly by visiting them in their department area, and only contacting them using school email system if they really can't see them in person.
Parents may wish to contact staff. The following outlines what the Headteacher regards as important considerations regarding home/school communication, particularly by email:
¨ All communication must respect the dignity of the recipient.
¨ Within 48 hours: receipt of an email will be acknowledged by school either by the person contacted, or the most appropriate person able to deal with the issue (term time only, not after 5pm nor over a weekend).
¨ Within 5 working days: school will provide a response to the email by telephone or in writing, or e-mail. This may include informing the sender that more time is required to provide a full response. If this is the case, staff should indicate a time frame for a response.
¨ Staff will not be expected to monitor or respond to emails outside their normal working hours (nor at weekends and published school holidays).
Whilst this is extremely rare, if a member of staff receives an e-mail or call which is of an aggressive tone, sets unreasonable demands or could otherwise be interpreted as harassing, they will refer this to a senior line manager in the school, who will decide if consideration needs to be given to dealing with further communication under our Complaints Policy.
PARKING
Out of respect for our neighbours and for health and safety reasons there is NO PARKING on the school site or for collecting/dropping off students on the double yellow lines outside our school gates.
SCHOOL NURSE DROP IN
Don't forget for our students, the School Nurse visits school to provide a "drop in" clinic on Friday Week A at lunchtime. Just pop along to the Counselling Room.
STUDENTS LEAVING SCHOOL DURING THE SCHOOL DAY
For safety reasons if your daughter has to leave school during the school day, and you are unable to collect her, she must have a note in her planner with clear instructions that you give permission for her to leave unaccompanied. Without your express instructions to this effect we will not allow any students to leave school unless they are collected by an adult from reception.
NUT ALLERGY
Please be aware that we have students who are severely allergic to nuts and we would, therefore, appreciate where possible that you try to avoid putting nuts into packed lunches.
Although we are not going completely nut free, we have stopped selling packets of nuts as snacks in the canteen to try to reduce the risk to them and appreciate your support.
SOCIAL MEDIA & ONLINE SAFETY
Our Children are spending more and more time on their mobile phones. Making them aware of the dangers of social media, and protecting them from these dangers can be very challenging. These are some of the better known sites that pose risks to children—are they on your child's phone home screen?
To help safeguard your child please regularly take the time to talk to them about the way they use their social media apps:
Do they always know who they are engaging with?
Do they share their passwords?
Do they feel comfortable with what they are seeing and doing?
Do they feel pressure from "friends" to do/say things they don't want to?
For more information please regarding online safety, please visit our website: www.phsg.org/
Yr 13 Mock Exams

All Day

From 04 Jan until 15 Jan
School Nurse - Drop In

1:30pm – 2:30pm

From 08 Jan and on Friday every 2 weeks until 11 Feb
Y13 Art Mock Exam

All Day

From 18 Jan until 20 Jan
Year 8 CAP

9:00am – 1:30pm
Year 8 CAP

9:00am – 1:30pm
Year 8 CAP

9:00am – 1:30pm
Yr 11 Mock Results Event

All Day
Year 8 CAP

9:00am – 1:30pm
Yr 9 Options/Parents Evening Time TBC

5:00pm – 6:30pm
School Nurse - Drop In

1:30pm – 2:30pm

From 08 Jan and on Friday every 2 weeks until 11 Feb
Holocaust Memorial Day

All Day
School Nurse - Drop In

1:30pm – 2:30pm

From 08 Jan and on Friday every 2 weeks until 11 Feb
Sixth Form Interviews

All Day

From 01 Feb and on Monday, Tuesday, Wednesday, Thursday and Friday each week until 26 Feb except for 15 Feb except for 16 Feb except for 17 Feb except for 18 Feb except for 19 Feb
Sixth Form Interviews

All Day

From 01 Feb and on Monday, Tuesday, Wednesday, Thursday and Friday each week until 26 Feb except for 15 Feb except for 16 Feb except for 17 Feb except for 18 Feb except for 19 Feb
Sixth Form Interviews

All Day

From 01 Feb and on Monday, Tuesday, Wednesday, Thursday and Friday each week until 26 Feb except for 15 Feb except for 16 Feb except for 17 Feb except for 18 Feb except for 19 Feb
Sixth Form Interviews

All Day

From 01 Feb and on Monday, Tuesday, Wednesday, Thursday and Friday each week until 26 Feb except for 15 Feb except for 16 Feb except for 17 Feb except for 18 Feb except for 19 Feb
Sixth Form Interviews

All Day

From 01 Feb and on Monday, Tuesday, Wednesday, Thursday and Friday each week until 26 Feb except for 15 Feb except for 16 Feb except for 17 Feb except for 18 Feb except for 19 Feb
Sixth Form Interviews

All Day

From 01 Feb and on Monday, Tuesday, Wednesday, Thursday and Friday each week until 26 Feb except for 15 Feb except for 16 Feb except for 17 Feb except for 18 Feb except for 19 Feb
Yr 8 Enterprise Day

All Day
Sixth Form Interviews

All Day

From 01 Feb and on Monday, Tuesday, Wednesday, Thursday and Friday each week until 26 Feb except for 15 Feb except for 16 Feb except for 17 Feb except for 18 Feb except for 19 Feb
Your'e Hired Yr12 tbc

All Day
Sixth Form Interviews

All Day

From 01 Feb and on Monday, Tuesday, Wednesday, Thursday and Friday each week until 26 Feb except for 15 Feb except for 16 Feb except for 17 Feb except for 18 Feb except for 19 Feb
Options Form Yr 9 deadline

All Day
Sixth Form Interviews

All Day

From 01 Feb and on Monday, Tuesday, Wednesday, Thursday and Friday each week until 26 Feb except for 15 Feb except for 16 Feb except for 17 Feb except for 18 Feb except for 19 Feb
Half Term

All Day

From 12 Feb until 19 Feb
Sixth Form Interviews

All Day

From 01 Feb and on Monday, Tuesday, Wednesday, Thursday and Friday each week until 26 Feb except for 15 Feb except for 16 Feb except for 17 Feb except for 18 Feb except for 19 Feb
2020-2021
Autumn Term:
Thursday 3rd September 2020 – Friday 18th December 2020
Half term: Monday 26th October – Monday 2nd November 2020
Spring Term:
Monday 4th January 2021 – Thursday 1st April 2021
Half term: Friday 12th February – Friday 19th February 2021
Summer Term:
Monday 19th April 2021 – Friday 23rd July 2021
May Day: Monday 3rd May 2021
Half term: Monday 31st May – Friday 4th June 2021
Curriculum Enrichment Week
Monday 11th July—16th July 2021
The non-pupil days are:
Tuesday 1st September 2020 (staff inset)
Wednesday 2nd September 2020 (staff inset)
Friday 25th September 2020 (staff inset)
Friday 23rd October 2020 (staff inset)
Monday 2nd November 2020 (commuted holiday)
Friday 12th February 2021(commuted holiday)
Date in June tbc 2021 (staff inset)
2021-2022
Autumn Term:
Tuesday 7th September 2021 - Friday 17th December 2021
Autumn Half Term: Monday 25th October 2021 - Friday 29th October 2021
Spring Term:
Tuesday 4th January 2022 - Thursday 8th April 2022
Spring Half Term: Monday 21st February 2022 - Friday 25th February 2022
Summer Term:
Monday 25th April 2022 - 22nd July 2022
Summer Half Term: Monday 30th May 2022 - Friday 3rd June 2022
Curriculum Enrichment Week:
Monday 4th July - Friday 8th July 2022
The Non Pupil Days are:
Monday 6th September 2021
Friday 22nd October 2021
Monday 2nd May 2022 (Bank Holiday)
TBC June 2022
Monday 25th July 2022
Tuesday 26th July 2022
Week B

All Day

From 02 Nov and on Monday every 2 weeks until 18 Dec