PHSG Young Enterprise wins the Devon Regional Final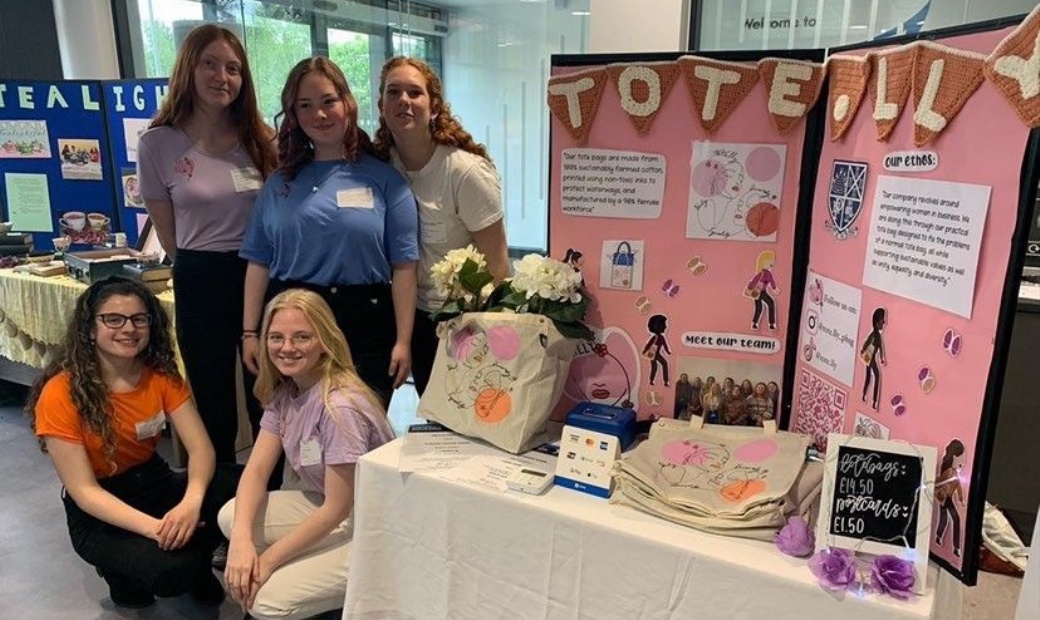 The Young Enterprise team in year 12 (@tote.lly_phsg on Instagram) had the privilege of being part of the Young Enterprise Regional Final for Devon, Cornwall and Somerset on the 4th of May. The force was certainly with us because we become the Devon winners!
Overall there were eight teams competing, with five other teams in Devon who all had wonderful and successful companies. It was a very tough competition, but we managed to come out on top which means that Tote.lly will be progressing to the next round.
The five members of our team that attended the final had to do a 4-minute presentation to the judges which was an exercise in improving all of our public speaking skills, as well as an opportunity for us to display what we considered to be the most important aspects of our business: the message behind our company and our engagement with the community. Three members of Tote.lly also took part in a five minute interview with the judges in which they asked questions about our product as well as our branding, social engagement and sustainability. All of us have put in an incredible amount of time and effort since setting up our business in September and it feels so good to be rewarded for all our hard work.
The next final is getting closer, and we all are incredibly excited to see how far we can progress in the Young Enterprise scheme. It has been a fantastic opportunity to take part in and we would encourage anyone, whether you have a keen interest in business or not, to take part in the scheme should you have the chance. A huge thank you to Mrs Harris, Mrs Longford, Mr Jenkins and Mr Payne.
By Isabella, Year 12
There are still some Tote.lly bags available to purchase from our young entrepreneurs, for more details students can speak to member of the team or visit Miss Harris in the Library.
For more details on PHSG Young Enterprise, please visit their webpage, here.