PHSG Student and Class of the week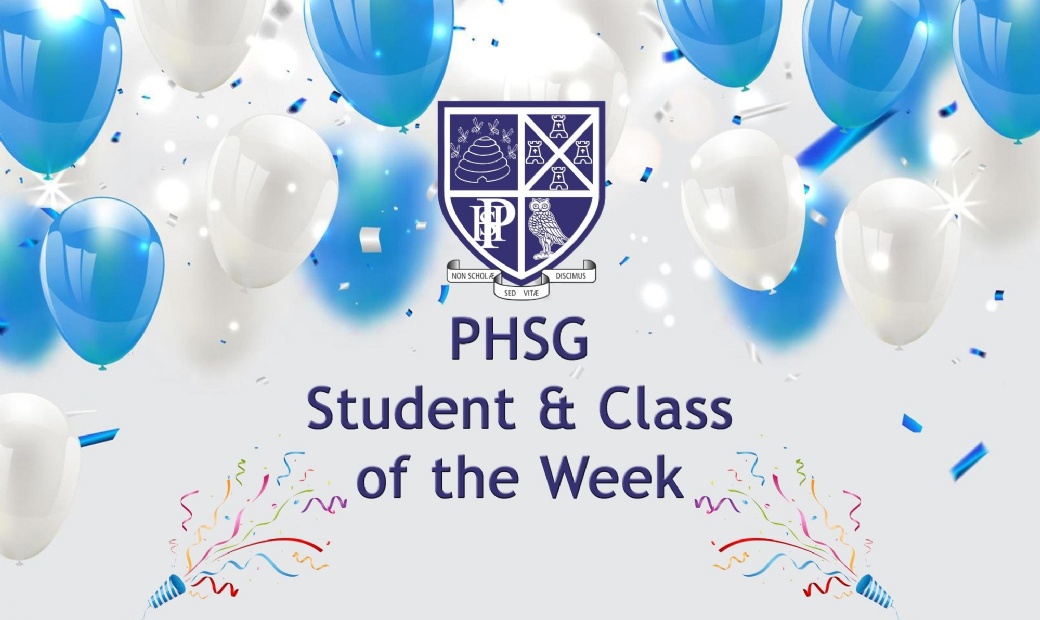 Student of the week: Jacob, 13MAL, ''For teaching his class about the carbonate buffering system of the blood last Friday, doing a very good job. He even had a retrieval task and a salient slide.'' in Chemistry class, nominated by Mrs Hatfield.
Class of the week: Year 13 Diversity and Equality Group. ''For doing a phenomenal job over the last year in and around the school. They are now in the process of handing over to the current Year 12 cohort, so they can concentrate on their final push towards A levels. They have worked hard over the last 12 months, making real changes for the better.'' Nominated by Mrs Hoyte.
Other Nominations:
Student of the Week
Caroline. 12VAN ''For being a superstar in tutor time and beyond.'' Nominated by Miss Carter.
Lily, 7T. ''For only dropping 5 marks in her first ever Science assessment at the school. This is all down to the hard work that Lily puts in, both in and out of school.'' Nominated by Miss Cook.
Clara, 9T. ''She was fantastic today and was a real team player helping other students to complete their bread rolls.'' in Food and Nutrition class, nominated by Mrs Brown.
Class of the Week
Year 10 Religious Studies. ''For the way they threw themselves in character into our "We should all be vegan" debate and then were able to switch to sensitively and respectfully talking about the intricacies of euthanasia and assisted dying. Great adaptability and maturity.'' Nominated by Mrs McCauliffe.
10P Maths Class with Mr Law. ''For working incredibly hard across two hours, working on their understanding of algebraic fractions. The culture of the lesson was fantastic.''
10P English Class with Mrs Blunden-Currie. ''For a sophisticated, insightful and genuinely original evaluation of the function and role of Tybalt and Mercutio in Shakespeare's Romeo and Juliet.''